Why Charlotte Swimming Pool Builder?
As a homeowner, you may have come across our site when searching for swimming pool or spa builders in Charlotte, Gastonia, Concord, Rock Hill, Harrisburg, Belmont, Matthews, Spartanburg, Hickory, or in other nearby communities. You might be wondering why you should choose Charlotte Swimming Pool Builder for your project. This is a great question!
You won't find any other pool builders in the area who are as dedicated to the entire design and building process as our experts are. If you live in the Carolinas, our commitment to you is to provide beautiful, aesthetically-pleasing, functional pool or spa areas which will fit your budget, personal preferences, and whatever kind of design you may have in your head already.
We guarantee that our swimming pool designers and builders serving Charlotte are unlike any other companies in the region.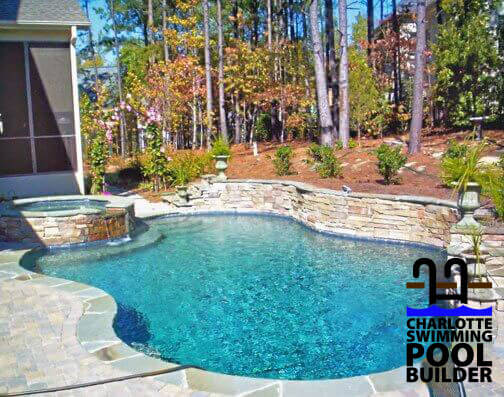 What sets us apart from other pool companies?
You'll be impressed with how our swimming pool and spa builders make use of our abilities, skills, tools, and knowledge along with our design to create a plan which is everything you're looking for. Our pool builders know how to get the job done and in a timely fashion so you and your family don't have to wait and wait and wait to enjoy the pool.
Expert Pool Design And Build Professionals
We have a staff of swimming pool design and building experts because we know that this is what you expect from a pool company in Charlotte. We promote on-going training and education with our designers and builders to help make sure that you are being provided with the very best services in town.
In the swimming pool industry, we are a leader with creating unique, functional swimming pool areas and spas with beautiful patios, decks, fences, and landscaping. Want to add an outdoor fireplace or kitchen to your pool area? This is something we can do!
Design And Build Specialists
At our pool and design company, we love our job. This means that our pool designers and builders enjoy helping families to design a pool or spa area which is innovative, has all of the features they want, and is absolutely stunning visually. We will work with your project from start to finish to ensure that all steps of the process are professionally completed in a timely manner and with results you can really see.
Comprehensive, In-Depth Process
We make sure that the pool design process is centered around you. What are your needs? What's your budget? Where do you want the pool to be located? All of these questions, plus many others, will be answered and answered thoroughly so we have a great understanding of what you expect from the project. We promote ongoing communication throughout the process and we will do everything we can to make sure everything runs smoothly.
Associations And Partnership
We keep active in the industry to make sure that we are always using the latest and greatest design and building technologies. We also ensure that we are utilizing the very best materials and building techniques so you get a swimming pool or spa which is everything you hoped it would be. We are well-respected in the field and hope we can serve as your pool company in the near future!
We firmly believe in giving back to the community which has given us so much. It's our goal to make a real difference in the daily lives of families and children in the area.