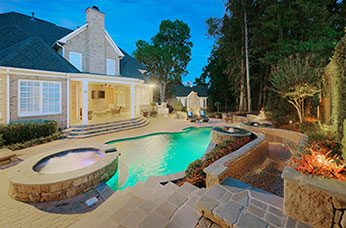 Designing your family's swimming pool or spa can prove to be quite an enjoyable experience for everyone in your family. With the help of our professional pool designers and builders, we guarantee that you will be pleased with your new outdoor paradise. It's critical that you stick to the following steps to ensure that the entire process goes as smoothly as possible. You'll be in your new pool or spa in no time and basking in that delightful Charlotte sunlight!
Determine the Pool/Spa Usage
When your family is planning the design and layout of your new pool or spa, you need to first figure out what you want to use it for. You might want to have an area where you can relax at the end of a long, stressful day by rejuvenating yourself in a cozy spa. Or perhaps you want to have a large pool area, complete with waterfalls and pool lighting for entertaining guests all summer long.
Each type of pool or spa will have its own requirements which will determine the best location of your new water feature, as well as its design and materials needed. If you plan on using a swimming pool more for exercising purposes, a rectangular pool will fit your needs better than one which is in a unique shape. If you're wanting to have a pool which will accommodate individuals of all ages, you're going to need a pool with a shallow end where small children can play. Depending on what you want to use your pool or spa for, you may also want to have a lot of space around the water feature for lounge chairs, tables, a barbecue pit, outdoor fireplace, and so on.
Think About Your Finances
Along with planning how you will use your new pool, you also need to think about the financial side of things. Whenever you add a water feature, such as a pool or spa to your Charlotte home, it's going to make your property value go up. Most swimming pools which are beautifully-designed are considered to be a great asset for homeowners. This is good news for you if you are planning to eventually sell your home in the future.
You'll also need to consider insurance for the building of your new swimming pool. Before you start the design process, it's recommended that you talk with your insurance company to make sure that you have the right protection needed. You will need to be sure that you have protection for any pool workers on your property. The individuals you're working with will carry liability and property damage insurance, but it doesn't hurt to make sure you also have good coverage in place on your end.
In addition to all of these considerations mentioned above, you will also need to think about the costs associated with pool maintenance. You will need to schedule routine pool maintenance to make sure that its always clean and safe to swim and play in. Pool maintenance includes keeping the water chemically balanced. Also, pool surfaces and equipment such as ladders and diving boards will also need to be looked at. If you choose to take care of your own pool maintenance, you will need to plan on buying oxidizers, sanitizers, and other products to keep the pool area clean. The cost of these items will depend on how big the pool is and how many people use it on a regular basis. Our pool professionals will be able to help you better determine these types of costs.
Determine Your Yard Size & Conditions
When designing your pool, our pool builders won't just look at the size of your yard, but also at your lawn's soil type, slope, and accessibility for any kind of building equipment we will need to bring in to excavate. Naturally, it's much easier to build a pool in an area where the ground is level. However, you shouldn't worry if you have a backyard with a hill or any other kind of slope. There are technologies available to help our pool designers to create the perfect swimming area which will fit your lawn, needs, and spending budget.
If your yard has really steep hills or slopes, or if the building area has very rocky soil conditions, we may need to use special construction equipment and techniques which could add to the amount of time it takes to finish the project.
You will also need to determine how big you want the water area to be. There are some homeowners who want to fill their whole yard with the swimming pool area with tables, sunbathing areas, and so on. Also, there are some homeowners who would rather have some grass area where they can accentuate the pool or spa with some beautiful landscaping. The choice is entirely up to you! Charlotte Swimming Pool Builder can help you with any paving or fencing work you need as well.
After you have figured out what you want to use the pool for and where it will be positioned in your yard, it's time to design the pool itself. You have a huge assortment of options to choose from. There are many customized features you can add to the swimming pool to help make it a design of your very own. We can help you to design your pool and have it include a deck, special water features (waterfalls), a patio area, etc.
Talk to Us - Your Pool Professional!
Our pool professionals will best be able to help you with designing and building your new swimming pool or spa area. Charlotte Swimming Pool Builder is the premiere pool builder in the greater Charlotte area. We can help you to determine what size pool will work best in your yard as well as what kind of features you should include.
Something which must not be overlooked include zoning laws in your town for swimming pools. Our pool builders will take care of all fencing or barrier needs, and can help you figure out what pool depth is required, as well as diving board specifications and the proper proximity to power lines.
When you're ready to select a pool builder, it's recommended that you get referrals from others in the Charlotte area. If you would like to get an estimate for your pool or spa project, please contact us and we will be more than happy to assist you.
Our pool builders realize that professional, careful planning is needed for your swimming pool project, and we are here to help you every step of the way. We can keep your unique needs, budget, and personal preferences in mind when building and designing your new pool or spa area.